Weld Mesh fencing systems offer a unique and flexible use for a variety of perimeter applications. Our range of steel security mesh fencing systems feature a unique, anti vandal, panel to post secure system.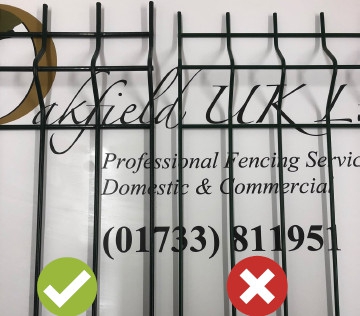 Recent years have proven to show an increased popularity in Weld Mesh Fencing. Unfortunately this popularity has encouraged a number of manufacturers to compromise the volume of steel used in their products, (as illustrated). This practice, allows for increased volumes of fencing to be squeezed in to shipping containers. Evidently this does compromise quality, security and fence life longevity.A number of suppliers measure their wire diameters after treatment. A smaller diameter wire with a heavier layer of coating, will not provide the same rigidness or cut through resistance, as a product made from a heavier gauge wire, even though both will be advertised as the same diameter.
OAKFIELD UK DO NOT BELIEVE IN COMPROMISING QUALITY OVER SECURITY, BUT DO BELIEVE IN OFFERING OUR CUSTOMERS QUALITY PRODUCTS!